Are you interested in a career in the electrical construction industry?
Do you think you have the aptitude and skills necessary to complete a rigorous 5-year apprenticeship program?
If you meet the following requirements, you could be on your way to a rewarding career.
Are you at least 18 years old?
Are you a High school graduate? Or do you have a GED?
Can you provide an official transcript that shows you have a C or better in two semesters of High School (or higher) level Algebra? (In lieu of High School Algebra, can you demonstrate successful completion of the NJATC Tech Math course?)
Do you possess a valid driver's license?
If you can answer yes to all of these questions, continue reading below.
All applications are taken online.
We strongly suggest that you carefully read all of the information below before you begin an application. The application steps are illustrated and explained below.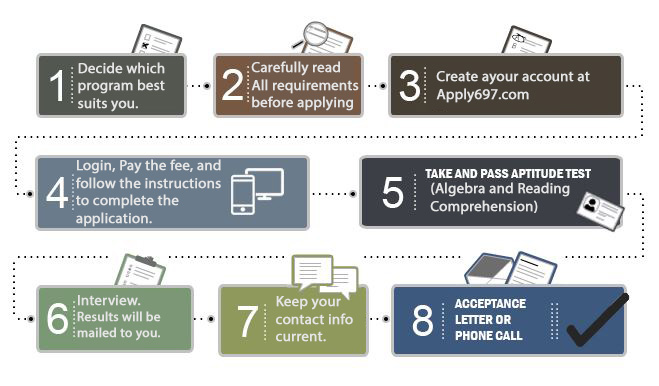 Decide which program best suits you.

Carefully read and understand ALL requirements before applying.
Once you have made your decision, you must visit the application website. Create your account and begin your application. Again, you MUST read, understand, and follow the instructions carefully. A mistake here can cause your application to become invalid.
You will be required to pay the $40.00 fee to proceed with your application. Once you have paid, the clock starts. You will have 28 days, from the date you started, to complete your application. If you do not meet this requirement your application will be closed.
If you have provided all of the necessary information, in the time allotted, you will receive a letter in the mail with information about your Aptitude test date. You will be tested on Algebra and Reading Comprehension.
The test results are scored on a scale of 0-9. We require a score of 6 or better to be qualified for an interview. You will receive a letter in the mail with information about your next step. If you qualify, you will receive information about the time and date of your interview. If you do not qualify for an interview, you will receive information about when you can reapply in the future.
Successful candidates are placed on our list, sorted highest to lowest. When the need for a class arises, we go to the list and choose from the top. You will remain on the list for up to 2 years after which time you will be removed. If you wish to continue to be considered for apprenticeship you must reapply.
We will use the information you provide on our application site to contact you. It's imperative that you keep that information up to date. If we are unable to reach you using the info provided to us, we will assume you are no longer interested in our program.
If you require special accommodations in order to apply, feel free to contact our office (219) 845-3454
Page Last Updated: Dec 09, 2019 (13:41:36)